EVENING

AIR
In thanksgiving to Our Lord & Our Mother of Perpetual Help.
Special thanks: to those who call forth that which lies within; to Jay (& Flipper) for the opportunity to join them in Hawthorne, CA: to Billy Watson for his generosity
.
The CD may be ordered for a $10.00 from St. Mary's Rectory: 155 Catherine St. Yorkton, Sask, Canada, S3N 0B9.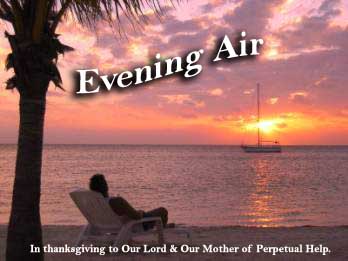 Cover Photo: taken by Bishop Bryan J. Bayda, CSsR, Cancun, QROO, MX